On 8 December 1980, John Lennon, ex-member of The Beatles, also known for his peace activities, was shot dead in New York City. This event saddened people all over the world, including the Eastern Bloc.
After the sad news reached Czechoslovakia in the following days, several memorials of John Lennon were created in Prague and other cities. In mid-December 1980, someone created a tombstone shape from a niche along the former water supply on the wall in Velkopřevorské náměstí.
People, mostly young, then laid flowers, candles, photographs of John Lennon or newspaper cuttings to this memorial. Inscriptions inspired by Lennon or the Beatles began to fill the entire Wall. However, in April 1981, they were all covered with green paint for the first time. Representatives of the regime expressed this way their concerns about unchained expressions of freedom, which were also often symbolizing the Western "capitalist" world. These concerns grew before the 16th Congress of the Communist Party of Czechoslovakia, which took place in April 1981.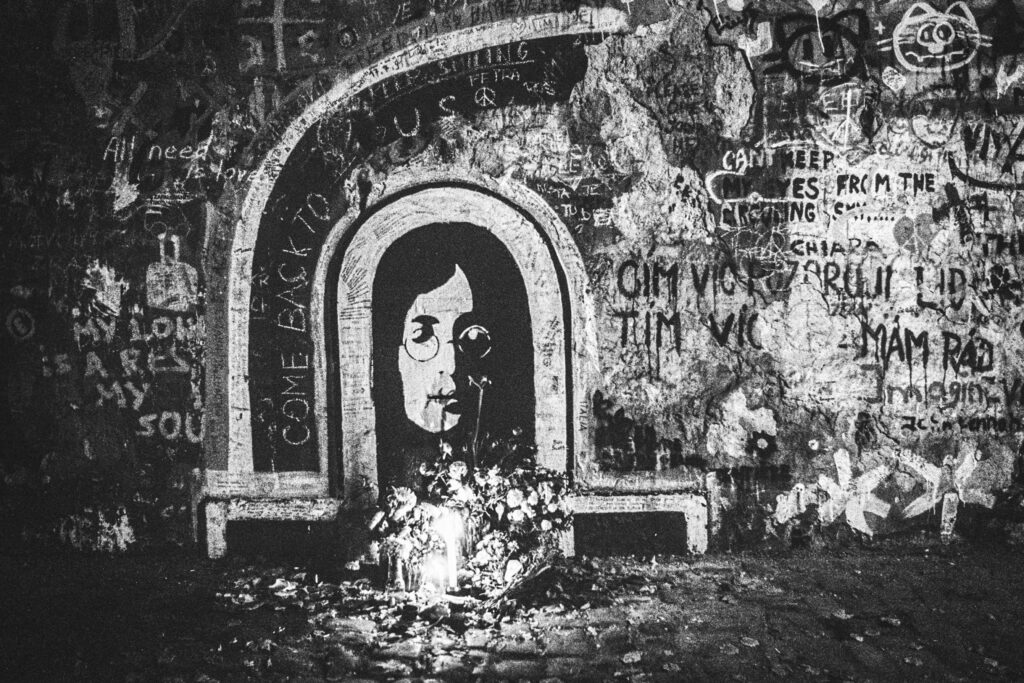 Despite the repaint, passers-by soon began to write new inscriptions on the Wall, this time sometimes politically tuned, such as "Palach would cry"*. The Lennon Wall was then repainted several times, but was always soon filled with new texts and pictures. However, no spray or paint was used for the inscriptions at that time as they were not easily available and it was dangerous to carry them with you.
Nevertheless, there were exceptions. One of the daredevils was Pepino Maraczi, who spray-painted a portrait of John Lennon over a stencil on the Wall and then under the Charles Bridge. He came with his girlfriend and a pram for an "innocent" walk around Kampa. In the pram, however, they carried the necessary material instead of a child.
*Jan Palach was a Czech student who self-immolated in 1968 as a political protest against the end of the Prague Spring in the same year and the subsequent invasion of the country by Warsaw Pact armies.